Making older immigrants of color visible in the mainstream
At India Home we serve South Asian's immigrants of color, a demographic that has remained largely absent from mainstream depictions of seniors. Here are some examples of our advocacy efforts to make older immigrants of color a visible and vital part of the conversations around aging:
Our seniors star in DFTA's Stylin' Seniors campaign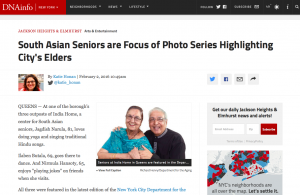 Our seniors were part of the popular Stylin' Seniors campaign from New York City's Department for the Aging (DFTA). Photographs of our seniors in traditional clothes  became part of the witty and charming record of New York city's senior population. This was the first time that South Asian seniors were featured by the Stylin' Seniors Campaign and DNAinfo did a feature on it.
A bias-busting love story on Youtube 
India Home members, Dinesh and Kusumben Parmar, were part of a Valentine's Day campaign created for AARP and AARP's AAPI Community Channel by Next Day Better. Their participation helped bring immigrant Asian American and Pacific Islander stories and histories into the mainstream. The "Immigrant Love Story: Songs from Dinesh" video racked up hundreds of views on Youtube.
Columbia University's project on aging New Yorkers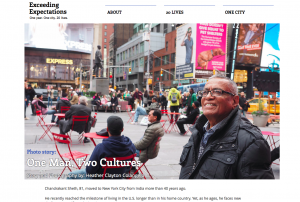 India Home's Chandrakant Sheth was featured in Exceeding Expectations, a project from Columbia University's Aging Center, as someone from a different background who had both exceeded life expectancy and was upending commonly-held expectations of what it means to grow old. The project, Chandrakant Sheth and India Home was also given a two page spread in India Abroad, the oldest newspaper in North America catering to the South Asian diaspora and featured on Next Avenue, a online magazine from PBS.
Disrupting stereotypes around love and seniors
Our Twitter campaign on Valentine's Day 2017 featured vibrant, loving couples talking candidly about their long partnerships and disrupted the stereotypes that exclude older adults from this national celebration of love.