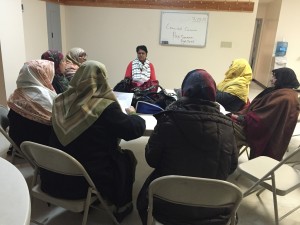 Breast Cancer Awareness Self Help Peer Group at Desi Senior Center
India Home partnered with Sapna NYC, our sister organization, to start a breast cancer awareness group at the Desi Senior Center. We had a group of eight energetic women led by our senior, Saleha Begum. They met every Tuesday for eight weeks. Sapna NYC's Community Health Worker, Laila Akhter, instructed the group during each meeting. At the end of the eight sessions, our group participated in a mammogram workshop. During the eight weeks and even afterwards, the women from the Self Help Peer Group outreached to two or three isolated women in the community to deliver health education.
Our eight seniors coming together is known as a peer education group. Peer education has been found to be an effective method of public health education because people are more receptive to learning and absorbing information from their peers. In addition, most public health education doesn't always reach vulnerable or isolated people. This makes peer education a more effective method because it works through community networks.
Breast cancer awareness is important to the South Asian community. Many women do not know how to check for lumps and other symptoms that may lead to more a serious condition. We hope that with the beginning of this peer group, we inspire other women in the South Asian community to reach out and access important public health services.