Written with contributions from Anita Konaje and Meeta Patel
[social_share/] A group of eight LGBTQ South Asians gathered around platters of mushroom kababs and Chicken Methi Malai at Sahib restaurant in Manhattan, NY, one evening in May, and worried that they would have nothing to say to each other.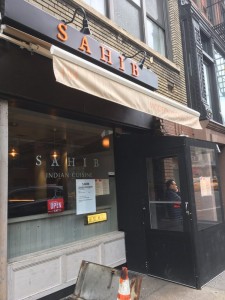 Okay, so they didn't actually know each other, but it's not as if strangers don't get together at dinner all the time. What made this dinner different was that they were were all of wildly varying ages. Anita was 29, Meeta was 40ish, Per was 70, Pradip was in his 80s, Babu was in his 60's, and then there was the baby of the group, 23 year old Rahim. The age difference was…shall we say, pretty wide, hence the worry. Still, they had been brought together to try a SAGE Table, and so here they were. Created by SAGE (Services &Advocacy for GLBT Elders) with support from AARP, the SAGE Table was a one day event that brought together different generations of LGBTQ+ people across America to share a meal. This particular SAGE Table was brought together by SALGA NYC, New York City's community organization for LGBTQ+ South Asians.
SAGE had built the concept around a simple idea – namely, the generation gap. In America, older people are usually segregated from young people. Interests, music, spaces, trends, a relentless focus on youth – all tend to keep us stolidly fixed in our silos. For LGBTQ+ people the gap can sometimes be a chasm. Many older gay people are afraid to reveal their sexual orientation. Some LGBTQ+ people don't have kids or a family that supports their choices. Hence the SAGE Table wanted LGBTQ+ people of all ages to get together. Share their experiences. Find out what it felt like to care for each other if age didn't matter. Break bread (or in this case, naan).
It sounded great in theory, but Pradip was skeptical. He didn't really like going to group events he confessed. They were always crowded with young people and no one talked to them. Often they were left to their own devices and after a while it got boring to hang around, he said. But his friend, Babu, had persuaded him to come to this particular SAGE Table, which was hosted by SALGA NYC. Anita, who was representing SALGA, had worried about the exact same thing. What would they talk about?
Over the tomato soup and pakoras, someone started talking about the resistance. Not the one now, but the one that had started in the '60s and the '70s, another time in history when social justice issues were boiling up. Pradip and Babu had both come to America at that time of fervent. They had participated in the movement for equal rights as college students. Meeta, who is also from SALGA, was intrigued by the fact that  Pradip had arrived in America, even before the 1965 Immigration and Nationality Act that brought so many South Asians to the US. But the '60s were also a time when Westerners were going to India to find themselves. Per, another diner, had gone to Varanasi, lived in India for a while, and that had been another kind of revolution altogether.
The conversation moved on to books.
Pradip was a writer and had published a book of short stories in Bengali. Per had published a self-help book called "Gay Money," that tells aging gay men how to organize their finances better. On Amazon, the description promises to tell gays and lesbians, among other nuggets of wisdom, "What insurance we absolutely need to protect our legacy, our lovers – or our independence."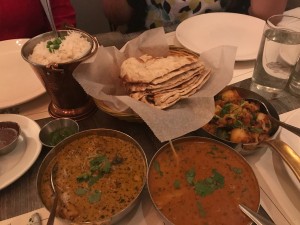 The food kept coming: Gutti Venkaya Kura, a delicacy from Andhra Pradesh, then, Alu Gobi, a dry potato and cauliflower dish.
Like the inveterate New Yorkers they were, the diners kept circling back to marvel at the life they led here. Everyone at the table felt lucky to be living in the city and lucky to be in a place that allowed LGBTQ+ communities, like the one gathered around the table, to have events like the one they were at.
The mango mousse arrived.
As the night wound on, everyone kept talking. Pradip said he was glad Babu had pushed him to come tonight; it was nice to talk to people for hours without thinking about age at all. Then it was time to leave. Where they would meet next time, they wondered. Would it be easier to meet in someone's apartment? Or how about a picnic in Central Park.
This SAGE Table was organized by SALGA NYC on May 18th, 2017. You can click here to visit their website. Funds for the meal was generously provided by India Home, Inc.