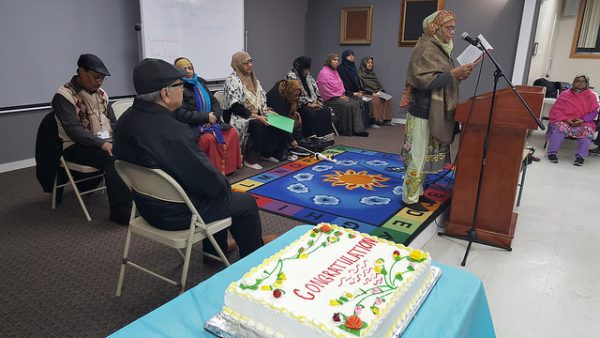 Jamaica, Queens: On November 28, 2017, India Home inaugurated the first ever Dementia Day care program tailored to South Asian immigrants at it's new facility in Jamaica, Queens.
Titled 3 D, for Desi Dementia Day Care, the facility plans to offer expert care that aligns with South Asian values for older adults suffering from mild to moderate dementia. We expect this new expansion will help to bridge the gap for culturally appropriate dementia -related services in New York city.
With a mandate to "serve all" South Asian seniors, regardless of income, faith or country of origin, for the last 10 years, India Home's culturally relevant programs have helped immigrant South Asian elders deal with one of the toughest problems of growing old in America – social isolation and loneliness. We hope that the new 3D center will provide a welcome and safe space for South Asian patients experiencing mild to moderate dementia, but also provide a respite to caregivers.
South Asian seniors are among the fastest growing groups of seniors in New York city. According to the Center for an Urban Future's report in New York City alone, Indians are the second largest immigrant group. Between 2000 and 2010 the population of older immigrants from India grew by 135 percent or about 8000 people. The number of Bangladeshi immigrants from Bangladesh grew in the previous decade by 471%, while the Pakistani populations grew by 38 percent from 2008 to 2011. These immigrants face language and cultural barriers, increased isolation, and higher levels of poverty–all barriers to access needed services like dementia care.
Wide Range of Programs to Meet Growing Need:
Speaking on the occasion, Dr. Vasundhara Kalasapudi, India home's Executive Director said: "For the past 10 years, India Home has offered South Asian seniors culturally appropriate services in Queens and our expansion into dementia services is driven by the growing need for such services in the South Asian community."
The 3D Desi Dementia Care center will offer programs specially tailored to help with dementia such as exercise, arts activities, music and sensory therapy. The center will also provide two hot meals a day, counsel families on dementia care and provide a respite for caregivers.
Nahar Alam of the Center of Asian American Health at NYU will assist with outreach in South Asian community in Queens.