Starting in 2015, the people behind Exceeding Expectations, a project from Columbia University's Aging Center, searched far and wide for 20 New Yorkers from all different circumstances and backgrounds who have both exceeded life expectancy and who are disrupting commonly-held expectations of what it means to grow old. "The project, through writing, photography and video, explores how people find purpose in later life and how their environment and circumstances make it easier or more challenging to do so. Their stories are filled with mystery, drama, wisdom and search for meaning," according to the website.
The Exceeding Expectations project, Chandrakant Sheth and India Home was also given a two page spread in India Abroad, the oldest newspaper in North America catering to the South Asian diaspora.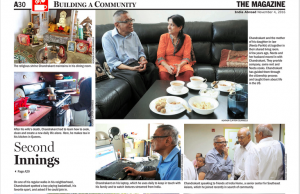 The project's goal is to challenge people's expectations of growing old and to present different possibilities beyond the extreme images of frailty and skydiving, as we like to say.  – Heather Clayton Colangelo
 
Heather Clayton Colangelo found India Home's very own Chandrakant Sheth and shadowed him for a year, going to his home, meeting his family and friends, and visiting us and his friends at India Home's Sunnyside Center. We interviewed her about the project and what sparked her interest in Chandrakant Sheth: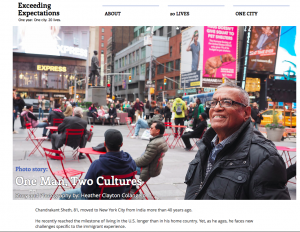 What made you choose Chandrakant Sheth as a subject?
We spent several months trying to find 20 people all in their 80s that represented the diversity of New York City. We wanted people in all different living situations, with different interests, from different socioeconomic backgrounds and from different neighborhoods. The key piece was that each person needed to be seeking purpose in some way, to have a goal that they were trying to accomplish. The project's goal is to challenge people's expectations of growing old and to present different possibilities beyond the extreme images of frailty and skydiving, as we like to say.
I heard about India Home because of the opening of the Desi Senior Center right around the time we were looking for participants for the project, and were intrigued. As a then-resident of Astoria, I was also hoping to find someone suitable to follow in Queens as I wanted to represent the borough I dearly love. I contacted Lakshman at India Home and he recommended Chandrakant to me. He described Chandrakant as someone warm and genuine, with a thirst for learning, which made him a perfect fit for our project. Asking someone to be vulnerable and open their life up to a stranger is not an easy task, but from the beginning Chandrakant was willing to go outside of his comfort zone and share his life and thoughts with me.
You've been shadowing him for a year. How did your relationship develop?
The very first time I sat down with Chandrakant he was incredibly candid and genuine. He expressed enthusiasm for the goals of Exceeding Expectations and wanted to share his story as a way to help other people facing aging with limited models. I believe we talked for more than 3 hours that first day. Throughout the project he continued to graciously open up his heart and life to me, sharing his poetry, introducing me to family members, bringing me along on trips to India Home, and feeding me delicious food at his home. I feel grateful to have learned so much both professionally and personally from him.
What has the reaction to Exceeding Expectations been?
The reaction has been wonderful and is ongoing. We have heard from people young and old that they are inspired and see growing old in a more nuanced light. We have had pieces published in a variety of publications to reach new audiences, as well as on our website. We have more stories coming soon and hope people will follow along and share them with their friends! Best of all, we received funding from the New York Community Trust for a second year, so that we are able to follow these 20 inspiring people even longer and share their stories more widely.
Can you share a little of what you learned over the course of this project with Chandrakant Sheth and India Home.
India Home is an inspiring place. The people who attend demonstrate the diversity within the experience of older immigrants in New York, especially depending on what age a person has come to the U.S. and with what resources and knowledge. India Home is an example of the importance of culturally appropriate services and the need for meeting places in a city made of micro neighborhoods and cultural communities

.
From Chandrakant, I have learned so much. I have learned how much having a positive outlook can aid resiliency and how it is a basic human need to have a sense of community. I have seen with Chandrakant, as with others that we are following, the challenges of building a new life and finding new connections when one's partner passes. And I am also inspired by his desire to widen his community beyond only people with his same background. And finally, I have been so impressed by Chandrakant's thirst for knowledge and how adept at technology he is! Chandrakant certainly challenges anyone's belief that learning technology in old age is not possible.
We still have another part of Chandrakant's story to come, so stay tuned!