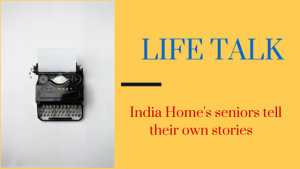 Maimoon Mohammad, 74, was born in Guyana in the Caribbean in 1942 and moved permanently to Jamaica, Queens in 2012, where she now lives with her daughter. A small, voluble lady with a large loving smile, she is a regular at India Home's Desi Senior Center. She speaks English and Guyanese creole. In this edited interview, we have tried capture a little of that distinct flavor.
On her childhood: "I work work work when I was small. I plant rice, I cut rice."
I was born on Plantation Ogle in Guyana. My grandparents were Muslim. Only I live with my grandparents, and all my brothers and sisters live with my parents. My grandparents come from India and they believed at the time I turn a young lady I should stop going to school. I was very very bright in school. Very brilliant in school. When I go to up to 5th grade I become a young lady and I stopped going to school. We had no computer, no clock nothing. When I sleep I wake to the bell of the sugar factory.
I only had to work work work work when I was small. I plant rice, I cut rice. In our own fields. We had a piece of land to plant; not an estate. Not with the white people. We had a vegetable garden. It was very long, so we going out there to work. We plant squash, kathal (jackfruit), all kinds of vegetables and then when it is too much, we pick it and go and sell it out in the market.
On her grandparents: "He was an overseer. They called him Sardar."
My grandfather was born in 1901. He was tall and fair and had blue eyes, his father was a white man. The British bring the people from India to work.  The British were ruling. My grandfather he would  take the order and take these people into work on the sugar estate. You go that way, you go this way, he would say to the workers. He was something like an overseer or a director. They call him Sardar. Sardar, they would say. When I was small and my grandma and we clean the kathal (jackfruit), we have to skin it take out the seeds, when we do that, my grandma tell me lots of stories.
On looking after her sick grandmother: "I massage her and I bring her back good."
One day I come back from sewing class and I see my grandma get a stroke. She just sit there then suddenly get up with a passion. She hold her stomach from the pressure of the blood rushing up. I call my neighbor. We put her to rest then we take her to the doctor. Then I start to mind her. I wasn't married then. I massage her everyday. I bring her back good. Two years after she get it back again. Again I massage her and bring her back. My grandmother died after my first child was born, so I start to look after my grandfather. Then he remarried.
On marriage: "In February my husband and I will be married 58 years."
I marry at 17 years, my husband as 19 years when we marry. I married and went to the West Bank in Guyana. I got five children. Three daughters and two sons, but one boy died when he was just two years old. My husband worked in the sugar factory. He worked from when he was 18 until he retired at 60 years old. In February we will be married 58 years.
On coming to America: "Didi, 69 years you live in Guyana, you gonna miss us there in the US."
I used to come here from Guyana on vacation. I was 69 when I came permanent to the U.S in 2012. I'm 74 now. My daughter brought me here and now I live with my daughter and son-in-law. They are very good to me.  My son-in-laws are like my own sons. My daughter doesn't let me cook, she furnish me. Now I have 8 grandsons and 1 granddaughter. And two great-grand children in Guyana. Every day I thank Allah for his bounties and favors. My sister, when I leave she say:  "Didi, 69 years u live in Guyana, you gonna miss us there." I like it very much here. Even it's cold you can stay warm.  I go back to Guyana to see my family and friends. I always think of my family and friends. They call me and I call them. One day, my neighbor from Guyana called. He was so sweet. I can't figure how he got my phone number. I have my grandson in Guyana. He's very handsome. I miss him.
On her routine: "You should see me garden. I have 20 squash."
I keep myself busy. I don't watch the TV so much. I clean upstairs, I clean my room. I do puzzles, my grandson got me a big puzzle book. I go to the park and walk around.  I go to the mosque. I pray my salat five times a day and I read the Islamic Book in English. I go to the center three days a week. I  pray upstairs. I'm growing things. You should see me garden. I have 20 squash in my garden. Yesterday I clean so much "sem," (runner beans). I clean them and I freeze them for the winter to cook it. I thank the Lord that for my age, I can go down on my knees and clean my place and cook. Allah has blessed me.
On India Home: "All kinds of people come together, it's so nice."
Every three times a week I come here to the center. India Home is so nice for elders. All kinds of people come together. There's entertainment. We get some exercise, some food. I saw Manhattan when they took us on the trip. Only thing I don't understand Bangladesh language. There's a girl here from Guyana. She lives in 161 street. Me and she and my husband get together, we speak English. It's very very nice. They [India Home] are doing good things.