[social_share/]
Lakshman Kalasapudi, Deputy Director, India Home and Nargis Ahmed, Program Director, Desi Senior Center, were both called on to testify at separate New York City Council hearings.
Halal Home Delivered Meals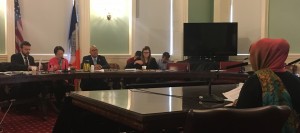 Nargis Ahmed, in her position as Program Director of India Home's Desi Senior Center, the largest Muslim Senior Center in New York City, testified on April 26, 2017 before the Committee on Aging in support of Resolution 0262-2014.
The Resolution calls on the Department for the Aging (DFTA) to ensure halal meals are available as a part of the home delivered meal program for seniors.
Ms. Ahmed testified that India Home runs the largest halal senior center congregate meal program in the city, with over 100 seniors who attend the program, access case assistance services, recreational activities, health and wellness programs three days a week.
Halal food is an integral part of Islam and a subset of one of the five main pillars of the religion. Muslims seniors eat only halal food in order to continue their faith and religious practices. India Home's ability to offer culturally appropriate meals, has allowed the organization to serve an underserved and ignored segment of seniors in New York City.
Availability of halal home delivered meals would help India Home and other Community Based Organizations to reach homebound Muslim seniors who desperately need culturally appropriate home delivered meals, as well as case management services, friendly visiting programs, and other aging related services.
Halal meat is readily available. Many New York city schools now serve halal lunches, as a result of advocacy efforts–in which Ms. Ahmed participated. "There should be no reason why Muslim seniors cannot get halal home delivered meals in this day and age. We at India Home are ready to partner with DFTA to deliver these meals," she said.
Expanding the scope of the Mayor's Office of Immigrant Affairs (MOIA)
On April 25, 2017,  Lakshman Kalasapudi testified his support of  Introductions 1566-2017 and 1578-2017, sponsored by CM Danny Dromm, which expand the scope and work of the Mayor's Office of Immigrant Affairs and their ability to work with other entities. Kalasapudi recommended:
1. Targeted outreach to Immigrants
Almost 50% of New York City's older adults are immigrants. Many immigrants, including those we serve, have unique needs which require targeted outreach and extra attention. Many older immigrants do not have income support such as Social Security, and experience barriers accessing city agencies and services because they cannot speak proper English. As a result of their unfamiliarity with American ways, they face hardships in navigating the city's transportation and healthcare systems . Many of them also have culturally mandated dietary restrictions that make attending a senior center or a hospital stay difficult for them. Kalasapudi recommended explicit and intentional interagency coordination and communication between the Mayor's Office of Immigrant Affairs (MOIA) the Department for the Aging (DFTA) to ensure that vulnerable older adults are brought more fully into the aging services infrastructure so that they may access SNAP benefits, city services, and community activities.
 2. MOIA-DFTA Partnership for data collection and disaggregation 
A partnership between MOIA and DFTA could also give rise to increased data collection that would help quantify the needs of our seniors. An entity like MOIA has the sophisticated resources necessary to compile and deliver the accurate data required how immigrant older adults access or face barriers accessing city services, social services, legal services, housing, and adult education. Further, Kalasapudi recommended that MOIA should disaggregate the date to reflect the diverse needs of immigrant communities. Immigrant elders are of different cultures and ethnicities, speak different languages, and practice diverse cultures and religions. We need data along all these variables to better serve individual communities.  He suggested that MOIA pay added attention to homebound immigrant older adults who, because of their physical or cognitive limitations, are even more isolated and vulnerable.
Question at NYC Mayor Bill de Blasio's Town Hall 
On April 27, 2017, New York's Mayor Bill de Blasio held a Town Hall in Queens which Deputy Director, Lakshman Kalasapudi attended. He asked the Mayor why New York City was allotting no new funding to senior services in the Executive Budget, even as the country was celebrating the "Year of the Senior?"
He said that immigrant seniors have limited English speaking skills, have little income support, are unfamiliar with the healthcare and transportation systems here, and desperately need affordable housing to alleviate the overcrowded situations they are living in at present.
Mayor de Blasio answered that NYC has invested in affordable senior housing and mentioned the ThriveNYC Mental Health Initiative. He then referred the question to Donna Corrado, Commissioner, NYCs Department for the Aging, who had some very nice things to say about India Home's services. As for the questions: "We intend to keep asking them!" Kalasapudi said.