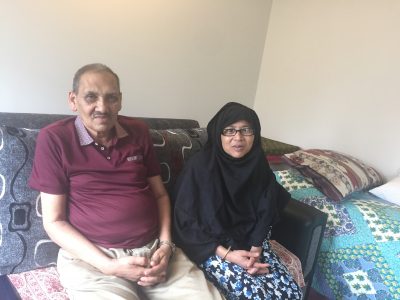 [social_share/]
Nurul Khan and his wife Farida Begum are an older Bengali couple from Queens who lived for 30 years in damp basement apartments in Jamaica, Queens until recently.
"It was so damp I got arthritis," Farida Begum said to visitors recently. "The basement was freezing."
The visitors were in Farida Begum's brand new apartment on 96th avenue. Tiny and spry, the 58 year old rushed about the apartment getting us snacks and making chai on her brand new stovetop.
"I never saw the sun for all those years. My body used to ache all over." "Now look!" She gestures with delight to the window that looks out on to Amsterdam avenue and where her squash and chili plants on the sill soak in the sun.
In 2017, India Home helped Mr and Mrs. Khan re-apply for an affordable senior apartment with the city. A year later, the Khans moved into an apartment owned by NYCHA (New York City Housing Authority), in one of the city's 41 seniors-only developments.
"Thank Allah for getting us this house." Farida Begum said proudly showing us the kitchen and the bathroom in the spotless one – bedroom apartment . "Everything is very nice."
Mr and Mrs. Khan are the lucky ones who managed to get an apartment they can afford. Many others are not so fortunate.
In New York City, the number of people over age 65 has passed the one million mark for the first time in history and 462,000 of those are over 75 years old. By 2040, one in five city residents will be an older adult. However, there's a severe shortage of affordable senior housing for this rapidly growing population.
In January of 2016 LiveOn NY, an advocacy group for aging New Yorkers released a survey of affordable senior housing buildings located in New York City, financed through Section 202 of the Department of Housing and Urban Development (HUD). An astounding 110,912 seniors were found to be on waiting lists for affordable housing through the HUD 202 Program. With a citywide response rate of 46%, LiveOn NY estimated that upwards of 200,000 individuals were likely to be on waiting lists in New York City. Further, the study found that seniors wait an average of 7 years after first applying to receive affordable housing, with some having to wait as long as 10 years.
Nationally, too, a 2014 study by the Harvard Joint Center for Housing Studies and AARP Foundation concluded that for the older U.S. population, "Housing that is affordable, physically accessible, well-located and coordinated with supports and services is in too short supply."
The situation has steadily worsened for seniors since back in 2012, the Federal government under President Obama cut funds for new private affordable housing developments under Section 202 of the Department of Housing and Urban Development (HUD).
In Jamaica, the Khan's were paying $1300 for the basement apartment. Nurul Khan (68) continues to work doing security with a contractor at JFK airport, as he has for the past 20 years. His wife retired from working at Rug Doctor in Long Island, repairing carpets. They didn't have children and have had to depend on these low paying jobs to support themselves. Their economic circumstances have worsened because of the rising rents. Their landlord threatened to raise the rent and that's when they came to India Home's Case management team. The team reactivated an old application that had fallen dormant and helped the couple to reapply.
According to the New York Times, "for those who are still working age, it's getting harder to pay the rent: According to a StreetEasy survey, rents in the city rose twice as fast as wages between 2010 and 2017. The lowest rents (those up to $2,300) rose 4.9 percent annually since 2010, which means someone who paid $1,500 a month in 2010 likely paid nearly $600 more for the same place in 2017."
For seniors on a fixed income it can be a challenge to find affordable housing in NYC. The application process is confusing for immigrants with limited English skills, and the wait lists long. Even when they do get an apartment, seniors are often displaced from all that is familiar.
Social Isolation is a problem
Farida Begum says she has to depend on her husband now to get Bengali groceries from Queens. While they live in an area that is well connected to public transport, Farida says she's afraid now to take the train all the way to Queens to see her relatives and friends because she may get lost.
"This is a beautiful apartment, but I 'm scared. Who will come here to help if something happens to us?" Farida Begum says.
A growing percentage of New Yorkers prefer to age in their community, surrounded by their friends and relatives and supports cultivated over a lifetime. However, given the fact that there are not enough apartments to go around, seniors like Nurul Khan and Farida Begum have to take whatever they can get, even if it is far from their friends and relatives.
But Mr. Khan hopes that things may change soon. "There's some new apartments that have opened up in Queens." He's been keeping track.