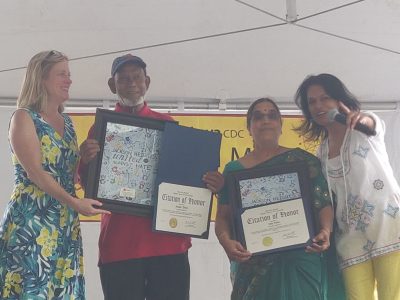 Chhaya CDC honored India Home with a Community Leadership Award for Community Impact at the nonprofit's annual Chatpati Mela held in Jackson Heights on July 21, 2018.  Melinda Katz, the Queens Borough President.  honored India Home's work serving the South Asian elderly, with a citation awarded to India Home's Executive Director, Dr. Vasundhara Kalasapudi.
Speaking on the occasion, Ms. Melinda Katz said she was amazed every single say at the "unbelievably needed service" provided by India Home's aging services. "In the city of New York, with its immigrant South Asian population increasing exponentially since the 90s, there was a never ending need for services. Since 2007 India Home has provided an array of services in a warm caring and culturally sensitive environment, so important to aging gracefully in our great borough. "
Chhaya CDC is a non-profit organization in Jackson Heights, that works with New Yorkers of South Asian origin to advocate for and build economically stable, sustainable, and thriving communities.